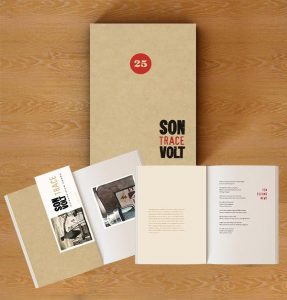 To celebrate the 25th anniversary of Son Volt's Trace, we are releasing a keepsake fine press book that includes lyrics and notes from Jay on the songs as well as a personal foreword by Jason Isbell and multiple original artworks by Phil Blank. Designed by Horse & Buggy Press (coincidentally moving into their 25th year anniversary as well), the 32-page 7×11 inch book is printed in full color on heavyweight, uncoated text paper. This limited edition of 1,500 copies features covers printed on a hand-fed, hand-cranked letterpress as well as a hand-sewn binding to create a rich, tactile artifact as intimate and imbued with emotion as the songs themselves. A printed bookmark completes the package. The books are available via the Son Volt store.
PREORDER 25th ANNIVERSARY TRACE BOOK
While we are trying our best to get these delivered by the holidays, please do not count on that. Books signed by Jay are $50. Unsigned books are $40.
Specifications:
Lyrics and notes by Jay Farrar
Foreword by Jason Isbell
7 x 10 inches
Full color 32 pages on heavyweight uncoated paper
Limited to 1500 copies
Hand-cranked letterpress with hand-sown binding
Designed by Horse & Buggy Press
Trace bookmark included
Limited amount signed by Jay Farrar
Comments